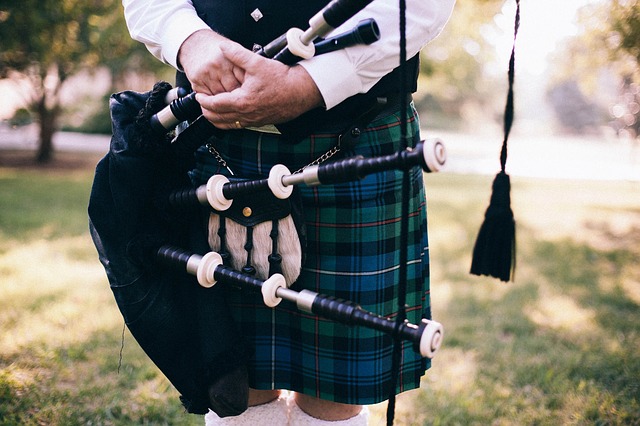 Area Bagpipe Bands
Bagpipes and drums are ancient instruments found across the world in various forms, but the bagpipes are most closely identified with the Scots. The Triangle area is home to three pipe bands: North Carolina State University Pipes and Drums, Wake and District, and Piobadh na Triantan. Contact the bands directly for information on performances, membership, or lessons.
NCSU Pipes and Drums Band
The North Carolina State University Pipes and Drums has been around since 1968, making it the longest running pipe band in the state. A beginning bagpipe class is offered each semester through the Music Department. Alumni and community members provide stability as NCSU students enter and leave over the course of their studies. The band enjoys sharing its music in a variety of performances both on and off campus including the annual Music from the British Isles concert, the NCSU Homecoming Parade, Raleigh's St. Patrick's Day parade and community festivals. The band fields a competition group in Grade 5 at highland games.
Wake and District Public Safety Pipes and Drums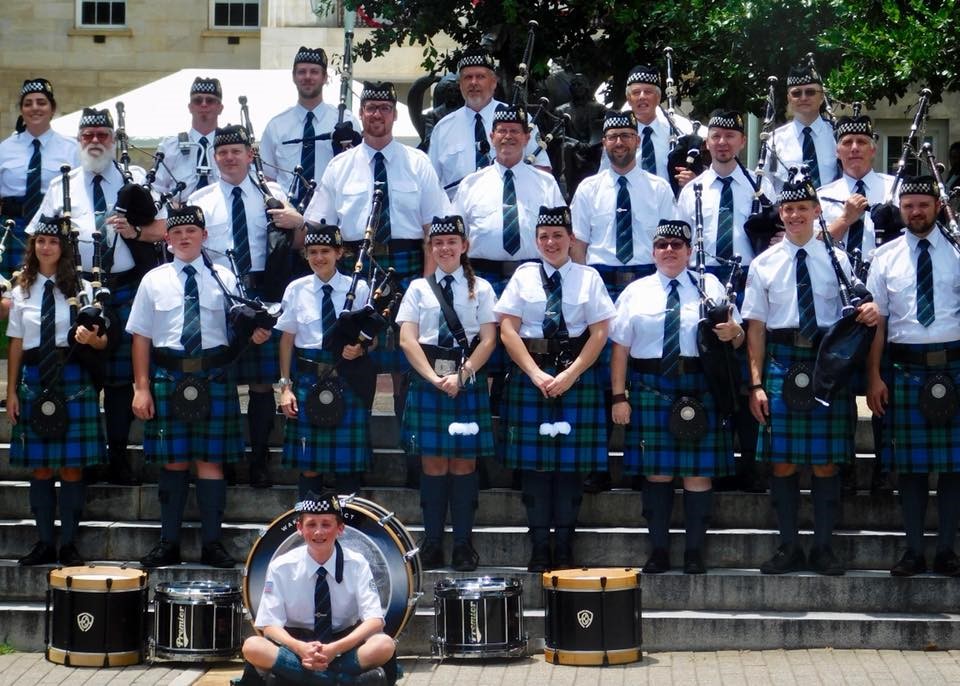 Wake and District was formed in 2006 with the mission of providing a distinguishing tribute to fallen public safety comrades and to be in service to the family, friends and co-workers of public safety employees of North Carolina. In addition to memorial ceremonies and police induction ceremonies, the band is in demand to play in parades, pubs and festivals. It offers an ongoing teaching program for new players while also recruiting experienced players from a wide geographic area. The band fields both Grade III and Grade V bands at competitions across the south.

Piobadh na Triantan – Piping in the Triangle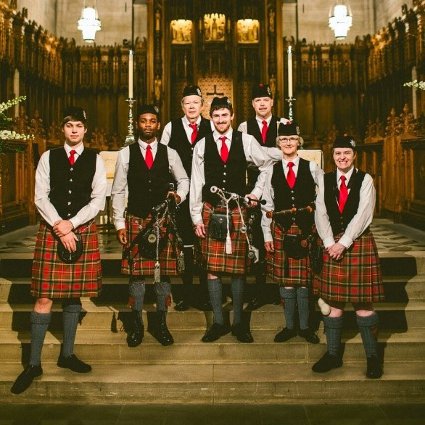 Piobadh na Triantan formed in 2014 when there was a request for a mini band to play for a church service. The group of 4 pipers and 3 drummers has found its niche as a concert band, playing a variety of melodic tunes with counterpoint harmonies and percussion which accents the rhythm and unique styles of music. The band enjoys performing for SCOT events such as the Sister Cities Ceilidh at the Cary Arts Center, Cary Spring Daze, Raleigh's International Festival, as well as picnics, weddings, and funerals. A recurring performance is the annual Raleigh Hall of Fame Inductee Ceremony.

Solo Piping
SCOT offers a solo piping contest as part of the Pat Johnston Memorial Competitions. Held each spring in early March, this well-organized competition draws amateur players from throughout North Carolina and adjoining states. It is sanctioned by the EUSPBA (Eastern United States Pipe Band Association).
Piping in North Carolina
A member of SCOT has developed a website which documents the history of all pipe bands in North Carolina. Go to pipebandsnc.com to read about the 40+ bands which have existed in the state since 1946. About 20 of these are active today. The webmaster serves as an informal booking agent fielding requests through the Contact Page for pipers, bands or instructors across the state.
Area Fiddling
The Raleigh Scottish Fiddle Club is a group of fiddlers and other musicians who meet monthly to share Scottish Fiddle music. Sometimes the meeting follows a theme, with tunes emailed to the group. Other times members just play what everyone knows. Tunes may be downloaded free from their website. Although the website no longer allows updates, the tune collection continues as a great resource to fiddlers. To get on the mailing list and get updates of coming meets/events, contact trkagan[at]aol.com. The group is on Facebook as Raleigh Scottish Fiddle Group.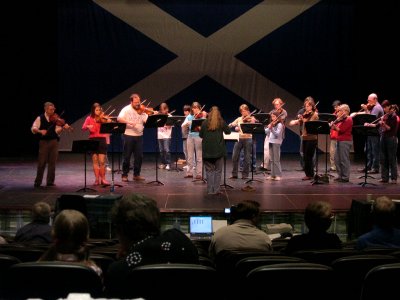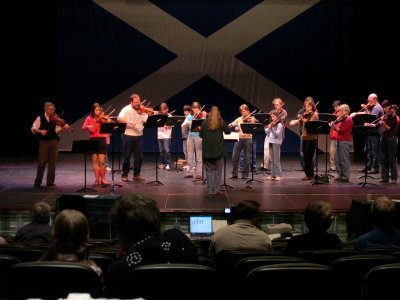 A History of Scottish Fiddling
Anyone who has ever played a violin or a fiddle has at some point been asked, "What's the difference between them?" The answer is short: "Nothing." Both names refer to the same instrument. The term "fiddle" implies more about the folk-­-style of music—often for dancing. In Scotland, the fiddle became a popular instrument at the beginning of the 18th century. The first published collections of music for violin in Scotland were often song tunes with instrumental variations, where the violin was an alternative to the flute or oboe. Fiddlers in Scotland (and everywhere) were at the center of town and village life—most places had at least one fiddler who played for weddings, dances, and special occasions. Chieftains and lairds often had a fiddler as part of their household, and as patrons, were important in encouraging and preserving the music of 18th- and 19th-century Scotland.
For dance, Scottish fiddling differs from a classical approach. Vibrato is considered an ornament, to be used sparingly. Bowing is highly rhythmic, providing an undercurrent that can be almost percussive at times. Jigs (6/8 time) are light and fast, and slightly syncopated. The Scottish strathspey (4/4 time) is a unique type of tune not found in other musical cultures—powerful, emotional, surging, and bowing is key to playing it well. For the Scottish fiddler playing for dancers, rhythm, phrasing, ornamentation, and accents are all geared to the dancers' feet, and not so much a concert performance.