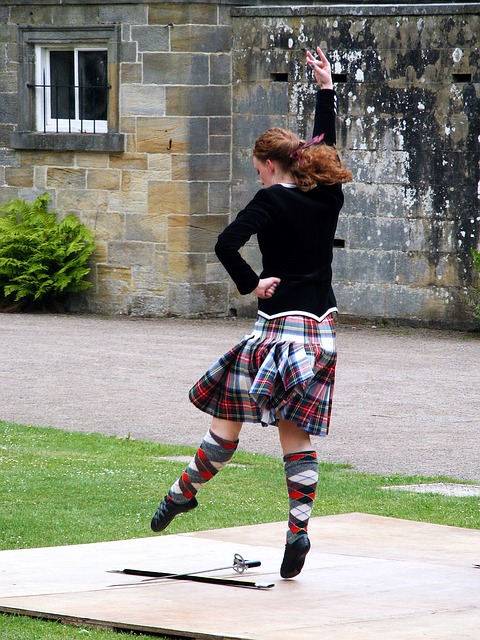 Scottish Highland Dancing
Highland dancing is based on traditional dances, but thrives today primarily as a competitive sport. Performance opportunities also offer dancers a wonderful outlet to share their hard work and dedication. The competitive nature of this art form has created a technical standard that is continually revised and raised, and as with any serious practice, the discipline and attention to detail developed through training carries over to other aspects of the dancers' lives.
In addition to perpetuating a great cultural tradition, highland dancers appreciate the athletic challenges, competitive goals, performance opportunities, and international camaraderie of this ethnic art form/sport.
Ambitious new students develop self-discipline and confidence as they learn to tackle the physical demands of highland dancing. Indeed, the tremendous strength, stamina, and technical precision that accomplished dancers exhibit on stage come from years of independent training and collaboration with experienced teachers.
Popular Highland Dances include the Highland Fling, the Sword Dance, Seann Truibhas as well as Strathspey & Reel of Tulloch.

Highland dancers perform in traditional Scottish costumes. Female dancers wear a kilt, a white blouse, a velvet vest or jacket, full clan hose and ghillies (shoes). Male dancers wear a kilt, shirt, tie, vest, wool or velvet jacket, sporran, and hat.
Local Highland Dance schools include Annandale Center Scottish Dance (Cary, NC) and Erin Bartow's Highland Dancers (Raleigh, NC).

Learn more about Competitive Highland Dancing.
Scottish Country Dancing
Scottish Country Dancing is the traditional ballroom and social dancing of Scotland. The history of Scottish country dancing goes back at least three centuries. The intervening years have seen it come and go, until the 1923 when Jean Milligan and Ysobel Stewart of Fasnacloich "founded" The Royal Scottish Country Dance Society (RSCDS), based in Edinburgh, to preserve this fun social dance tradition.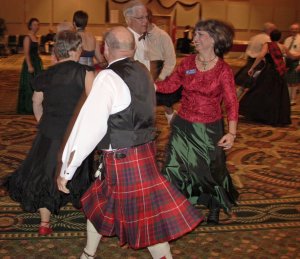 Since then, Scottish Country Dancing has spread all over the world. Unlike Highland dances, which are usually solo performances accompanied by bagpipes, Country dances are danced with partners in sets of two or more couples doing an exciting variety of formations. Dance tempos vary from lively jigs, hornpipes and reels, to the elegant, slower strathspeys. People enjoy Scottish country dancing for many reasons, including lively toe-tapping music, fitness, friendship, and maintaining a link with Scotland and her traditions and history.
The Scottish Country Dancers for North and South Carolina came together to form The Carolinas Branch of the Royal Scottish Country Dance Society. The Branch was formed to further promote country dancing in the southeast.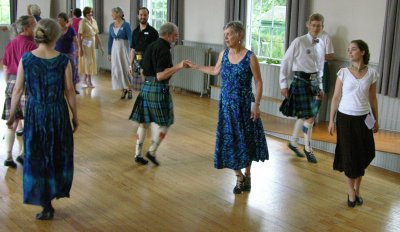 Here in the Triangle area there are three dance groups which meet regularly:
Scottish Hard Shoe Dancing
Hard shoe or step dancing has flourished throughout Canada since immigrants from the British Isles arrived with the music and basic movements in the 18th and 19th century and has just recently experienced renewed interest in the rest of the world. Cape Breton Island, in Nova Scotia, has preserved a style of dancing that appears to have its roots in Scotland, along with the fiddle music that accompanies it.
Hard shoe dancing, or step dancing, is rhythmic, aerobic, casual, and most of all, fun! It is characterized by coordination of both legs and feet to produce percussive sound that accompanies fiddle music, with a relaxed and informal carriage of the upper body. Dancers begin by learning basic steps to accompany reels, jigs, and strathspeys. These basic steps are generally simple, and focused more on the rhythm and overall sound of the movements than more formal elements of footwork that you find in Highland and Country dancing. Once the basic rhythm is established, dancers work to learn and create more steps. Some steps are learned in a sequence to create a routine, but this is more a response to other styles of dance than something that is part of step dancing. Ideally, dancers are able to improvise and add their own personal style when dancing. There are no traditional costumes associated with this style of dance. It is not competitive like Highland dancing or danced in sets like Country dancing.
Throughout its history in Eastern Canada, and around the world today, step dancing is an individual art and thrives on personal style and variations. This growing interest has encouraged dancers to join musicians during performances on the stage, but step dancing is traditionally very informal, usually danced in kitchens or during house parties and still shows up regularly at SCOT Ceilidhs.
Hard shoe dancing classes are taught locally at Annandale Center Scottish Dance (Cary, NC).