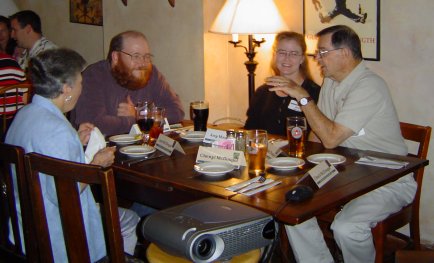 There has always been a lively group of Triangle residents with an interest in Scottish culture. Some were primarily dancers, others pipers, drummers, fiddlers, or simply Scotophiles. A group of these people got together in 2002 and formed SCOT as a way to share these interests with each other and the wider Triangle community. Since then SCOT has sponsored numerous activities and performances, from small ceilidhs (parties) to large performances including international as well as local talent. There is an activity almost every month from whisky tastings to family barbeques, golf tournaments to afternoon teas.
SCOT is a 501(c)(3) organization, and membership is open to anyone with an interest in Scotland or Scottish culture. Benefits of membership include Great SCOT, our regular newsletter, featuring an assortment of upcoming events, recipes, poems, historical information, and various related articles. Members also receive discounts for SCOT activities and emails of upcoming events that may be of interest.
Membership Levels
We offer an array of individual and 2-person memberships to choose from. Each membership option is on an annual basis with the exceptions of the Royal Troon and St Andrew's levels, which provide lifetime membership.
Individual Membership
A single membership and single vote at the Annual General Meeting:
Voting Membership – $25
Full-time enrolled college student – $15
Family Memberships
Two memberships and two votes at the Annual General Meeting:
Family Membership – $50

Carnoustie Club – $100

Gleneagles Club – $250
Royal Troon Club (lifetime) – $500
St Andrews Club (lifetime) – $1000
Registration
Online
To become a member, you may complete the registration form online and pay via PayPal using your credit card through the button below.
Printable form
If you'd prefer to register by mail and pay by check, please print and mail the form below with a check payable to SCOT (address listed on form):