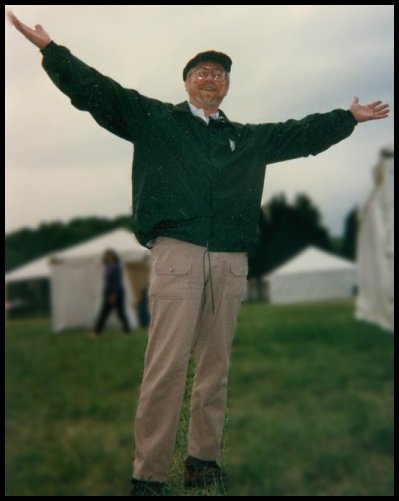 Steve Johnston: 1943-2011
Steve was known and loved by everyone in so many areas of his life. He became involved in all activities in a quiet but powerful manner. He touched us all with his ready humor, laugh, smile, knowledge, and love of life.
Most of us know that Steve was an avid "Wolfpacker" and loved his alma mater, North Carolina State University. He attended NCSU and received his Bachelor of Science in Nuclear Engineering in 1965. While there, he met and married his wife, Pat. He went on to receive his Ph.D. from NCSU in 1979 in Economics with a minor in Nuclear Engineering. You may have known that Steve was on the faculty at NCSU and North Carolina A & T University in Greensboro, NC, but did you know he was also a visiting lecturer to both UNC Chapel Hill and Duke University? Steve worked at RTI International Research and at Veritas Economic Consulting. Steve coauthored the book Electric Utility Load Management and had over seven articles published. He presented at over 25 conferences across the United States and Canada. That's a side of Steve that many of us never had the pleasure of witnessing.
Steve was always active in his churches, including Hudson Memorial Presbyterian while living in Raleigh and the Kirk of Kildaire in Cary. Steve served as an elder in both churches. He was a supporter of the ceilidhs at Hudson and continued his service as a "Scottish Ambassador" in the Kirkin' o' the Tartan at the Kirk of Kildaire. As one member at the Kirk testified, "He was considered the authority on all things Scottish at the Kirk." As in all areas of his life, he was loved by all and continued to support the youth, even after they left for college.
Steve was instrumental in forming Clan Johnston/e in North America in the 1970's. He served on the Executive Council of the Clan since its beginning and was one of the founding, charter members. Steve served as the President of Clan Johnston/e from 2004 until 2011. One of Steve's favorite activities was to man the Clan Johnston/e tent at highland games and get to know people.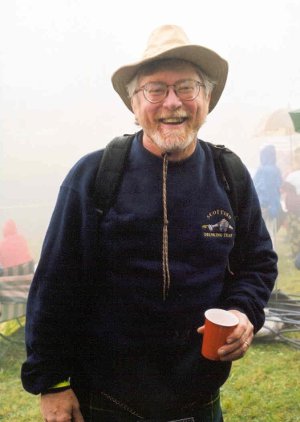 On the Friends of Steve Johnston Facebook page, there have been many memories shared that depict Steve's love of life, the Scottish community, kids of all ages, and laughter. These include stories about his love of food and eating competitions. Who hasn't seen Steve eating corn-on-the-cob, peanuts [boiled of course], pralines, ice cream, ribs, Scotch eggs, eckles, and meat pies? And every Highland Dancer for about two decades now has tried on "the animal noses"! Also, did you know that Steve often instigated staring contests and burping contests with the dancers? Yes, that was our Steve! Then there was the difficult "finger worm"…..Steve was the champion at that art form. Steve was famous for giving his enthusiastic High Fives (and High #1's) to dancers as they leave the platform. He was also there to give a hug or a shoulder to lean on when dancers were frustrated over their performance or competition results. But the one memory that was mentioned more than any other was Steve's ability to make everyone, particularly the kids, feel relaxed, comfortable, happy and most of all, important.
Steve was so many things to so many people. He was husband, father, father-in-law, granddad, brother, uncle, nephew and to all of us who loved him, he was our dear, dear friend. We have heard story after story and memory after memory of how Steve affected peoples' lives. These stories poured in from all over the United States and Canada. Some of the descriptions of Steve were:
"Chief of our tribe of wandering North Carolina Scots"
"The glue that holds our Scottish community together"
"Dance dad extraordinaire"
"Hero" (mentioned five times)
"Math tutor"
"The Voice" for his beautiful, resonant voice when announcing dance competitions at Highland Games
"Best driver to Highland Games"
"Captain of the Scottish Drinking Team" (mentioned nine times!)
A "stand in dad"
A "second granddad"
A "font of knowledge and memory"
"A bridge player"
"An encourager"
"A magician"
A "Big Wig at RTI"
"A good dancer"
"A wonderful helper"
Steve was all of these things and oh so many more. We know that he never knew a stranger and was the greatest at "Kevin Bacon's Six Degrees of Separation" (although, Steve usually could make a connection to someone he just met in one or two jumps). However, the one description that appeared the most spoke to Steve's smile, his love of humor, and his laughter. In looking at the stories, these attributes were mentioned over forty times! What a wonderful gift Steve had…the ability to make others laugh, smile and feel loved!
Thank you, Steve, for teaching us to laugh, to see humor in all things, and to not take ourselves too seriously. Thank you for being our Chief, leader, captain, teacher, glue, hero, tutor, driver, encourager, stand in dad and granddad, magician, and helper. But most of all, thank you for being our friend.